Escape by kindertransport led to the stands at Griffin Park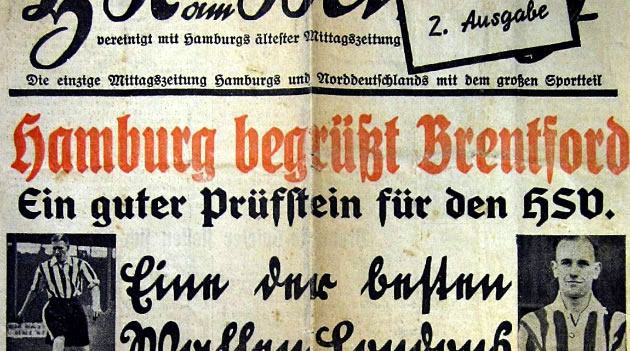 A German newspaper covers Brentford's visit. Picture: Beesotted.com
Of all the reasons to support a football team, them playing against Nazis would be low down the list, but that is exactly why the father of Ralph Collins became a Brentford fan.
As a German Jew born in Hamburg in 1923, he was in his early teens when Brentford came on a tour of Nazi Germany in 1937. At the time the Bees were a First Division side capable of taking on the top German teams. They defeated HSV 3-0 in Hamburg, Herta BSC 4-0 in Berlin, drawing 2-2 with FC Nurnburg, before losing 4-0 to Schalke 04 in Gelsenkirchen. It was the match in Hamburg that caught Ralph's father's imagination and he became a Brentford fan from that moment.
A year later his parents managed to secure passage on a kindertransport to England. He was one of 10,000 children who survived the Holocaust in this way but over a million other youngsters died in Nazi concentration camps.
Shortly afterwards his son fled the country his father passed away from a heart attack and it is believed his mother was murdered in the Birkenau Concentration Camp.

Ralph's father (right) with his parents in 1932
Changing his name to Francis Collins, he was initially put to work on a chicken farm then later interned and sent to Canada but returned to England to join the British Army in which he served with distinction as a commando. He operated behind enemy lines and then after the war was at the Nuremberg trials where his German came in useful.
He was also a useful footballer and played in goal against Everton for the British Army team.
The attachment to Brentford meant that he naturally chose to live in west London as it gave him the opportunity to see his favourite club taking Ralph to his first game in 1962 by which time Brentford's glory years had passed and they were relegated to the fourth division that year.
Ralph's dad passed away from a heart attack suddenly in 1973 aged just 50 leaving his son wishing that he had asked more about how he came to support Brentford and his activities during the war.
Some consider the tour to Hitler's Germany to be a shameful episode in Brentford's history particularly as the team agreed to give the Nazi salute during the playing of the German national anthem.
Brentford manager, Harry Curtis, said that he felt his side had been duped into making the salute, as the opposition teams continued to raise their arms during the playing of God Save The Queen which he felt was unsporting.
When Ralph was asked if the incident would have detracted from his father's love of Brentford he said, "Nobody knew in 1937 what was going to happen in 1939 and the team chose to accept the request because it was considered the polite thing to do."
The amazing story of how Ralph's dad came to be a Brentford fan came to like when he contacted the publishers to order the updated Griffin Park book and asked that extra names appear in the 'Brentford Fan Roll Of Honour' pages that will appear with the 420-page hardback book.
Ralph told them, "Your book offers me a very special opportunity to remember him for my daughter and my, yet to be born, grandson."
There has been a huge response by Brentford fans wanting to get their name in the updated Griffin Park book, so the deadline has been extended. For more information, to pre-order, or to get your name/s in the book, just click here.
August 21, 2020