Council's colour scheme for Worple Estate not popular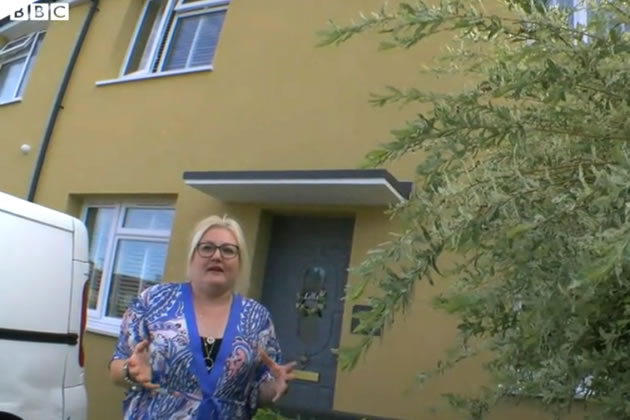 Clare Easton wishes she could change the colour of her house
A number of residents on the Worple Estate in Isleworth are furious over the colour their houses have been painted by Hounslow Council contractors.
The brickwork has been rendered and painted a mustard colour which the council describe as 'sand yellow'.
Local resident Clare Easton told the BBC, "When I first saw it, it reminded me of a baby's nappy, a baby's poo."
She added, " Passers-by have made comments saying how awful it looks."
Clare says she wishes she could change the colour and up the road one resident tried to do exactly that, partly covering the council paint with grey.
According to former local councillor Vanessa Smith, the council 'went spare' and made the residents stop work on their property. The council claim the reason why the original colour should not be painted over is because it risks invalidating the Council's warranty on the external wall insulation and is in breach of planning regulations and their tenancy agreement.

Residents attempt to repaint their house was stopped by council
Thirty council owned homes in the area are due to have work done to put in place thermal cladding and be painted. Residents were informed but Amanda Dickinson, who lives on the estate, points out that the council notification specified 'magnolia or similar'. She said, "If we had known it was mustard we would have had an opportunity to object."
The changes have also been described as divisive because most of the owner occupied homes on the estate will retain their original brickwork differentiating them from the council houses.
The work is part of Hounslow Council's effort to improve the energy efficiency of their housing stock.
Cllr Lily Bath, Deputy Leader of the Council and Cabinet Member for Housing and Social Inclusion, said, "The Council consulted tenants on the proposals, with most people in favour. The consultation included the preparation of a pilot scheme which referenced 'a magnolia colour (or similar)'. This formed the basis of our planning application for the works.
"However, during the planning process the independent Local Planning Authority required that the colour of the rendering to be changed to 'sand yellow' as a condition of its approval. This is the colour being used.
"The vast majority of tenants where works have been carried out are very satisfied with the quality of the works, the colour and the energy and costs they are now saving. Savings per property are estimated at £308 a year and there's also a large reduction in carbon emissions.
"There is no evidence that these works have had a negative impact on house prices in the area."

September 3, 2020