Three blocks of flats up to 7 storeys with some commercial provision to be built

Frontage along London Road, Block B to the left of Block A

A planning application has been submitted on behalf of Viewranks Estates, the owner of the site of the Royal Mail Sorting Office.
Royal Mail were given notice for the site at 50 London Road, Brentford towards the end of last year with their current notice expiring in June 2021.
The application is to demolish the sorting office and for three buildings in its place ranging from 4 to 7 storeys height, two of which front onto London Road (B and A) with the third (block C) behind it. All access will be from London Road. Block C would have a communal garden on the fourth floor.
There will be 69 flats in all, along with associated landscaping, 7 disabled parking spaces and car club space. The flats would be 22 x 1 bed, 29 x 2 beds, 17 x 3 bed and 1 x 4 bed. 21 homes would be offered as shared ownership, all in block C.
MP for Brentford and Isleworth, Ruth Cadbury wrote to the CEO of Royal Mail Rico Black when the prospect of closure of the sorting office was revealed towards the end of last year. At that stage the Royal Mail said they were planning to move operations to the Jubilee Mail centre on the other side of Hounslow.

Proposed view from Mulberry Crescent
The ground floor of block A will offer flexible workspaces aimed at small businesses.

Block C and community area
If you would like to comment on this application visit planning and enter system number P/2020/1361.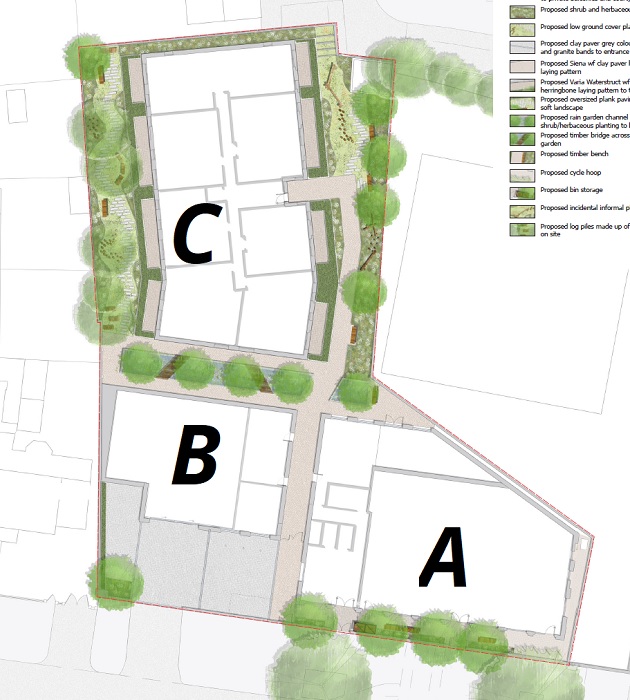 Block layout and landscaping
May 1, 2020