Cyclists breaking the law in a specific and limited way
I discovered I didn't actually have an electronic invite to the RoSPA event so had a more relaxed Thursday lunchtime than anticipated.
A lively Lampton board with much to talk about, mainly the three cabinet papers for Tuesday. One of these was a secret last week but is now public, that the running of our leisure centres will be handed over to Lampton, most likely via a new subsidiary company. This is the last of the major services outsourced by our Conservative and ICG brethren that we're taking back under council control. It's a big challenge to effect a transfer in two months – normally these things take much longer – but Lampton managed something similar with Greenspace after Carillion went bust and the companies are in better shape now than they were then, so they'll cope. We've been (rightly) under a lot of pressure to open leisure centres quickly but the nature of the contract with Fusion made this complex. We'll be looking to open facilities progressively from November 1 st , assuming we don't have a resumption of lockdowns affecting leisure centres.
During the afternoon I paid a brief visit to the Steam Museum to look at Karen ''@ Brentfordthrumylens' Reader's small exhibition there. Some lovely 'then and now' pics. You can see it Thursdays, Fridays and Saturdays 11am – 3pm until 26 September and it's a highly recommended way of spending 15 mins. This one brought back plenty of memories. I got a new job within Honeywell back when and more or less the first thing I had to do was to organise taking down the 'Honeywell' sign from what was then called Honeywell House and replacing it with a 'Honeywell Bull' sign, which later became Bull.
But my favourite picture was this one. I hope they were parked.
Sunday brought the excitement of the new Chiswick Flower Market, plus a very modest version of Tidefest down by Kew Bridge. The Flower Market was a rip-roaring success, as the picture illustrates, though social distancing was quite a challenge. There was a huge queue along the High Road and Linden Gardens but it moved quickly. I'm told most of the stalls had sold out by the end and also that it brought a great deal of business to local shops.
Maybe next month they can expand into the now largely car-free Devonshire Road. And yes, those crazy cyclists are going the wrong way up a one way street, causing mayhem as usual.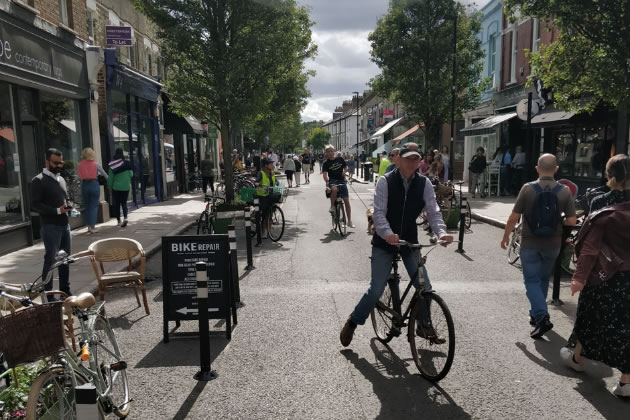 Monday morning I'm in Watermans Park with the Friends, the contractors who will (we're always hopeful round here) build a marina and improve the park landscaping, corporate property who manage the contractor and the head of parks who, umm, heads up parks for the council. They have allegedly recommenced work on the services and car park building at the east end of the park inside what I call The Citadel. The gates were open briefly whilst we attended but it was not apparent that a lot of progress had yet been made, though there were three blokes with paintbrushes busily painting the black hoardings a deeper shade of black. Discussion of relocating a palm(ish) tree inside the citadel, probably to somewhere else in the park.
The various wrecks that remain on the river will have to be broken up on site as the Port of London Authority will not allow them to be refloated away. Some have been 'scuttled' to make life as difficult as possible. The closure of Hammersmith bridge to navigation both on it and under it makes for additional difficulties but the wrecks should start disappearing this month and be gone by the end of October and access to the park from the east end restored – not step free yet – around February. Life is not made easier by the current financial uncertainties around TfL, who of course are planning to run CW9 through the park. We expect to see real progress over the next few months with a marina in operation by the summer. I pointed out that triffids are making a good attempt to take over the ramped entry in the centre of the park, so I'm hoping that will have been attended to next time I pass.
Faith in locals to nick anything that moves – or doesn't move – was enhanced by the sight of some of the walls in the park having been debricked. Perhaps someone needs a solid base for one of the council portaloos, provided for key workers, that were nicked during lockdown.


On Tuesday we had an update from the traffic team on the temporary Cycleway 9 plans that have now been agreed, to run along Chiswick High Road and link up to King Street. It will run along the road itself, with no incursions to the footway as are planned in the permanent scheme. What the long term answer is will, I suppose, depend on how the temporary scheme works in the new travel environment. Oh, and whether there's any money available.
In the evening we have the formal (virtual) Cabinet meeting, attended by a few councillors and sundry members of the public. Quite an important meeting for me, as we approve the restructuring of Lampton360, Coalo and the various subsidiaries to make the company structure more logical. This is not restructuring involving heads rolling and redundancies for which it is commonly a euphemism, just changing the company structure so – amongst other things - Coalo becomes a subsidiary of Lampton and Greenspace part of Coalo, which will make life simpler and avoid duplication. It also makes Lampton ready to accept the leisure activities previously mentioned.
Sometime around here I managed a gentle trip up our lovely canal. Canals have a dubious reputation for rusty Morrisons trolleys and Inspector Morse's forensic teams dragging them for bodies. But despite the valiant efforts of our tagger community ours remains very tranquil and beautiful as this family of coots would confirm, if you bothered to ask them.


Wednesday morning I have the pleasure of a Skype call with my friend and resident Philip, who is confined to barracks in Regatta Point but making the best of his confinement, as befits someone who was I believe once Captain of Hong Kong harbour.
In the evening we have a Labour virtual branch meeting. Despite various technological SNAFUs we have a very interesting talk from a lady from Justice for Grenfell. It is really quite shocking how the government is still prevaricating – in fact they're showing signs of getting even worse - about acting to prevent a recurrence and not surprisingly the Grenfell people are pretty angry. But we all should be, as the fire that happened in Sperry House a couple of weeks ago indicates that there are still plenty of problem properties out there and no government plan to fix them. So residents are either faced with enormous bills (if they own their flat) for rectifying things which should never have been allowed to be built in the first place or uncertainty and anxiety (if they're tenants) about whether landlords will make them safe. I'm proud of Hounslow, because our one affected block was made safe within days of the Grenfell tragedy.
Now I'm just getting ready for the very last of our iLabs where we develop our plans to support recovery. Afterwards I'm off to Acton Park to look at their skatepark and understand better what issues we might face bringing skating to Brentford.
Summer seems to have resurfaced, probably briefly, so my ride to Acton will be luverly.
Cllr Guy Lambert
September 10, 2020