Providing food to isolated and vulnerable residents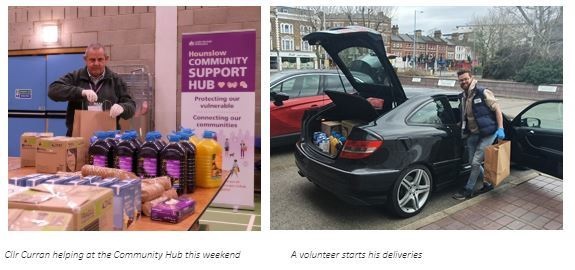 Hounslow Council's Community Support Hub – established to provide support for the most vulnerable residents identified by the NHS to be 'shielded' - went live on Thursday.
The priority of the Hub is to protect the most isolated and vulnerable individuals identified and contacted by the NHS to be 'shielded'. These residents have serious long-term health conditions and are isolated. It's vital we ensure there are support networks in place so they're looked after. It's expected that there will be over 3,000 such people in Hounslow. The Hub is also there for anyone else vulnerable and isolated who may not have been contacted by the NHS but needs urgent support. 
The Council is working with community partners, businesses and local volunteers to make sure these people receive the supplies they need – whether it be food, or other essential support, which may range from befriending to more complex care.
So far the Council has been advised of the those residents who have responded to the NHS shielded letter, but we expect over the coming days to be informed of many more people who will have been advised to stay at home for 12 weeks. Please don't contact the Hub unless you, or someone you know, are vulnerable, isolated and have an urgent need. Other advice and support is available through the coronavirus section of Hounslow council's website.
The food received from Government on Saturday was basic, emergency provisions. The Council is looking to source its own, local supply of food for vulnerable residents, and particularly provide more variety and fresh food.
Whilst the Hub is expected to focus primarily on supporting 'shielded' residents in the short-term, it will also connect people who need help in other ways to people and organisations who can help.
The Hub can be contacted on 020 7084 9697 or email hub@hounslow.gov.uk.
The Hub is also the place for people, community groups and businesses to volunteer to help, and there's an online form to register.
March 31, 2020