Keen supporter of county heritage happy to see it have special day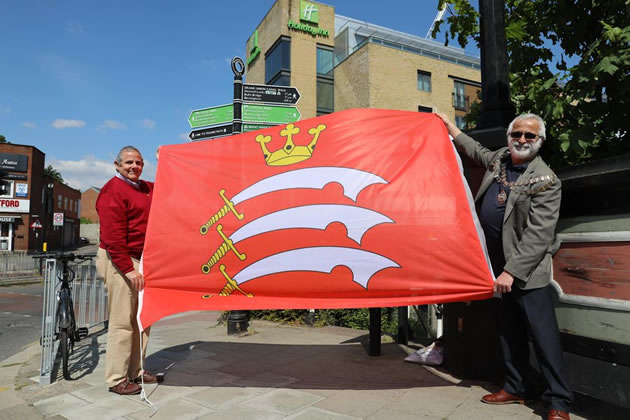 Cllr Steve Curran, Leader and Cllr Tony Louki, Mayor of Hounslow
TV astrologer Russell Grant has hailed the marking of Middlesex Day this Saturday (16 May).
He has done all he can to raise awareness of little known day which was celebrated this week. Cllr Steve Curran, Leader and Cllr Tony Louki, Mayor of Hounslow, proudly stood by Brentford Bridge, the original historic county town of Middlesex, holding the famous 'Seaxes and Saxon Crown' flag aloft.
Russell, who was born in Hillingdon and grew up in Harefield has been one of the principal drivers of Middlesex Heritage for over 30 years.
He said, "In 1988 we needed a date for Middlesex Day and following a poll in members of the predecessor of the Middlesex Heritage, the Friends of the County of Middlesex, it was decided to connect to the date of the Middlesex Regiment, and their heroic stand at the Battle of Albuhera on the 16th May and this date has continued to be a double celebration of the county and its own regiment.
"Can I wish you all a very happy Middlesex Day and thank you for your support in helping to gain renewed official recognition, for a county that is an integral part, and indeed older than the kingdom of England and Great Britain, too.
"Here at Middlesex Heritage, we are very grateful to Steve Curran and Tony Louki for their continued support and literally flying the flag for this important day and long may it continue".
The Battle of Albuera took place during the Peninsular War in 1811. A mixed British, Spanish and Portuguese army fought the French in a bloody but indecisive battle. The 57th (West Middlesex) Regiment of Foot suffered heavily with 88 per cent of its officers and 75 per cent of its men killed or wounded.
Cllr Steve Curran commented, "The Mayor and I are delighted to be able to celebrate this day by flying the flag and keep the message clear, that Middlesex still exists as a county. Amongst other things, we show the county crest at Youngs Corner on Chiswick High Road and on Brentford's Kew Bridge Road highlighting that visitors are now entering the county. I know our borough colleagues at Hillingdon and Harrow have done similar work. Also, it is great that we have the support of someone as passionate as Russell Grant and his team at Middlesex Heritage leading the campaign".
Cllr Tony Louki, Mayor of Hounslow added, "I am a proud Middle Saxon, born and raised in the county and always add Middlesex before my postcode. This is the fourth year we have flown the flag, it's a great leveller across the London Borough of Hounslow.
"Now postponed until 2021, I had planned to invite the ten other county mayors to Brentford. We would have celebrated its location of the Middlesex Parliamentary Constituency Hustings which took place on The Butts, recognising the return of important figures like the Radical John Wilkes MP, reforming Tory Sir Francis Burdett MP and the inspiration for William Hogarth's engraving series, The Election."

May 23, 2020