Flowers to help acknowledge the efforts of staff over the pandemic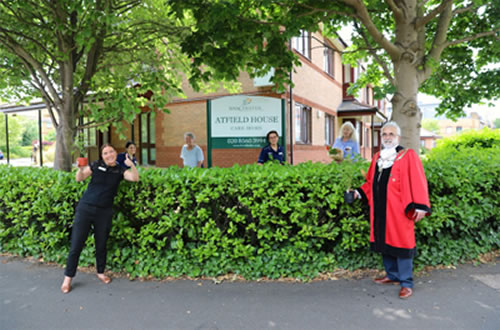 Mayor Tony Louki outside Atfield House in Isleworth
The Mayor of the London Borough of Hounslow has invited residents to 'gift a geranium' to care homes across the borough.
Part of an initiative developed by City University based care homes support charity myhomelife.org.uk, it's hoped the colourful flowers will serve as an acknowledgement of the hard work of care home staff over the last few months in their response to coronavirus.
Sixteen care homes in the borough have welcomed the offer of the plant donations including Poor Servants of Mother of God, Frances Taylor Foundation, St Raphael's & Brentford Supported Living and the Maryville Care Home in Brentford, St Mary's Convent and Nursing Home in Chiswick and Atfield House in Isleworth.
Residents are invited to show their support by leaving a geranium on their doorsteps.
Mayor of Hounslow, Councillor Tony Louki, said: "I know that I and the residents of the borough are both impressed and feel humbled by the hard work and dedication of our care home staff.
"They have been part of the unsung front line in the battle against coronavirus, often putting themselves at risk, and they are continuing to do so much to keep some of our most vulnerable residents safe.
"We owe these carers, cooks and cleaners a huge debt of gratitude and I hope these plants, in some small way, will help show how much we appreciate their efforts."

June 19, 2020