Supermarket could be in addition to one promised on existing site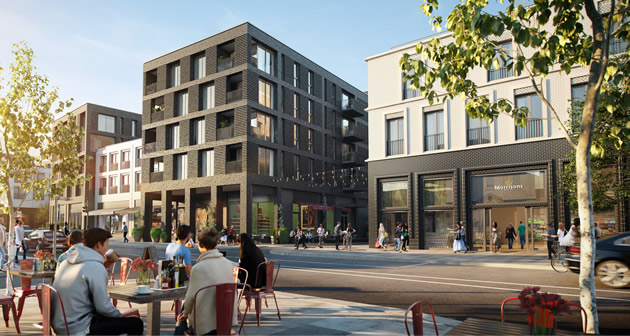 CGI of proposed Morrisons store
It has been announced that Morrisons has exchanged contracts with developer Ballymore for a large supermarket on the south side of Brentford High Street.
The 36,000 store is planned for opening in 2023 and would be 36,000 sq ft. The current store is located nearby on the north side of the street by the junction with Half Acre but is scheduled to close when development begins on a new project on the site.
A new supermarket has been promised at this location but that also isn't expected to open until 2023. Concerns have been raised that Brentford could go for over two years without a supermarket and then end up with two later on.
Morrisons took legal action to delay planning permission for the development on their existing site saying they weren't properly consulted but were unsuccessful.
Their new store in Ballymore's 'The Brentford Project' will have basement parking for around 130 cars.
The major mixed-use scheme, which spans 11.8 acres on the southern side of the high street will eventually include 876 flats alongside retail, leisure and commercial space reconnecting the High Street with the waterfront via a series of pedestrianised yards and lanes. It also promises extensions to the Thames path, opening up new waterfront walking routes.
John Mulryan, group managing director at Ballymore, said, "Our partnership with Morrisons represents a significant milestone in our vision to establish a revitalised high street for Brentford, and one which delivers on everything needed for modern life. Welcoming this market-leading retailer to The Brentford Project will offer the local community convenience and choice, and will be a great addition to the thriving retail scene we are creating across the neighbourhood."
Morrisons senior asset manager, Georgina French said; "We've always been committed to Brentford so we're delighted to have secured the store's future as part of Ballymore's development. This new scheme means that we will retain a presence on Brentford High Street and offer our customers a new look store with improved layout and additional popular and useful services."
Essential Living's original application for the current Morrisons site, (P/2016/5573), for 221 private rented sector units, a supermarket and other retail use with 90 parking spaces was approved. L&Q bought the site from them last March for a little over £28 million and are progressing the development.
It is expected that demolition will begin this year with construction to finish towards the end of 2023. It is not known by how much this original timetable will have been affected by the lockdown and planning approval delays.



Morrisons existing store. Picture: Google Streetview
November 24, 2020